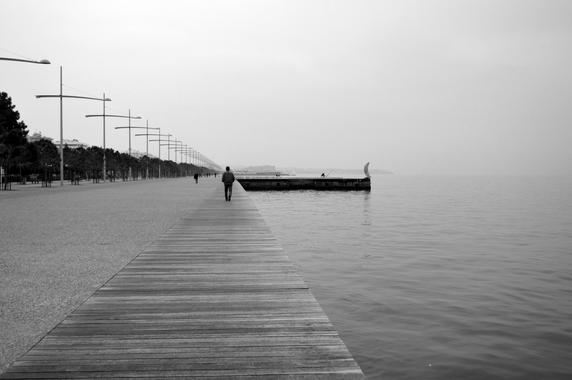 © ioanna papanikolaou
"Your important places" is a photo contest at photocrowd.com both crowd and expert voted. It is about showing the important places of our life ; those that bring all our special memories.
Both crowd and expert winners will win £50 worth of books by Dewi Lewis Publishing, a 12×16 inch print from Metroprint and a winners' gallery will feature on the LOOK/15 website during the Liverpool International Photography Festival.
I participate with two black and white photos from my series 'Waterfront'. This is my favourite place of my city; not only because I love the sea, but also because it carries so many memories from my youth and my years in the university. There, we used to go with my friends and sit beside the sea; talking endlessly and sharing our dreams and thoughts for the future. It symbolizes a kind of a starting point and it functions like a measure of where I was and how my life turned out to be eventually.
I always find it inspirational to walk back there and capture the scenes and the silhouettes of people; to freeze these moments in time like my own memories. If you like my photos and you want to vote them for this contest, you can click on them to go in the contest page and choose the full heart symbol. Every vote is so much appreciated!
Wish you have a beautiful Sunday evening and an easy-going week !!!
Hugs & Kisses
Jo_
ARTbyJWP Portfolio on Photocrowd
© All Rights Reserved